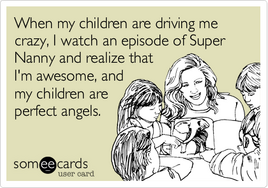 I love cleaning stuff up, and also love Supernanny! It reminds me of how the hectic toddler years are a distant memory.
Also enjoy the sleuthing involved in determining correct names, finding sources, etc. Pretty easy if you try, no need to make stuff up! (And if you want to make stuff up about Supernanny, there is a wikia for that.)
I can help with some, but not all admin things; learn more on my talk page.
I took a little break but will try to get back to check in at least once a day (still trying to earn the "A Wiki Life" badge! Need to figure out a single time each day I will check in).
I am not here as often as I used to be, but when I am I will be going through all the U.S. episodes to add tab views and episode transcripts, and then fill out the family member pages based on what I've learned through adding the transcript. (Transcribing isn't as awful as I thought it would be, but does take a long time.) Enjoy!
Currently working on
The Ririe Family. Might also go back to earlier Season 1 episodes to add images.
My favorite pages
Community content is available under
CC-BY-SA
unless otherwise noted.