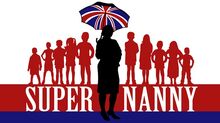 Supernanny started off as a British TV series. Different versions of Supernanny were broadcast in France, Germany, Brazil, Portugal, Spain, Denmark, The Netherlands, Israel, Belgium, Austria, Croatia, Poland, Romania, Russia with five further local format versions in production from Chile to Slovakia. Added to this, the UK and US English-language version have been broadcast in 47 different territories.
Supernanny (U.K.)
The British Supernanny began airing on Channel 4 on July 7, 2004. The show spanned twenty-nine episodes contained into four series and the last episode was broadcast on October 8, 2008.
Episodes
List of Supernanny (U.K.) episodes
Theme songs
Supernanny (U.S.)
The American Supernanny began airing on ABC on January 7, 2005. The show spanned 108 episodes contained into seven seasons and the last episode was broadcast on March 18, 2011. Reruns are broadcast on UPtv.
Episodes
List of Supernanny (U.S.) episodes
Theme songs
Viewership
Differences
Unlike the British version, the American version of Supernanny shares the parent's ages. The British version introduces the families with the families in front of the camera, and the narrator talking about the families. Most American episodes contain "submission reels" from the families.
Spin-offs
Supermanny
This reality project centers on the tough-love guidance of Chicago-based child therapist Mike Ruggles.
Episodes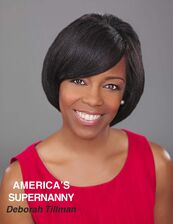 America's Supernanny
Hosted by Deborah Tillman, the series aired on Lifetime TV from November 29, 2011 to March 6, 2013. America's Supernanny had a similar format to the American Supernanny show hosted by Jo Frost.
External Links
Wiki for America's Supernanny
Term
The earliest known usage of the word "Supernanny" comes from an article published on The Telegraph.[1]
See also
References