Episode summary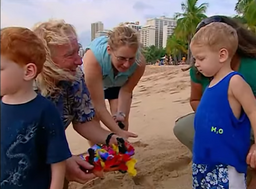 Jo visits Hawaii for the first time to rescue the Smith Family. While parents Will (47) and Michelle (39) are intelligent marine biologists, they're completely clueless when it comes to raising their two children: 3-year-old Nate and 2-year-old Ari.
Despite being 3 years old, Nate isn't even potty trained and Ari constantly screams and refuses to give up his bottle.
The boys don't have bedrooms, so they sleep in the living room. For safety, the refrigerator, stove, cupboards and kitchen chairs are secured with bungee cords.
Instead of a soothing bedtime story, Will's bedtime routine with the boys is to go in the yard and go frog hunting.
The parents admit the kids run the house and have no idea what to do. Can Jo help this family out?
Family members
Will Smith, 47
Michelle Smith, 39
Nate, 3
Ari, 2
Trivia
This is the only episode in Hawaii.
Traditional submission reel and observation background music are replaced with soothing Hawaiian music.
This episode is unique in that the parents clearly love spending time with their children. It focused on doing the normal things parents need to do in order to help their toddlers grow and learn, rather than addressing out-of-control behavior of both children and parents. Refreshing!
Jo uses walkie talkies in this episode to guide parents through technique, like Mike in the SuperManny episodes.
This episode is the only episode where Jo rode in a car other than the London TXIII to a family's home. This is due to the fact that the London TXIII is only in the mainland USA. This makes this episode and the McAfee Family the only episodes so far where the London TXII does not appear.
This video was filmed in June-July 2006.
Gallery
External Links