This is more commonly referred to as the Stay in Bed technique.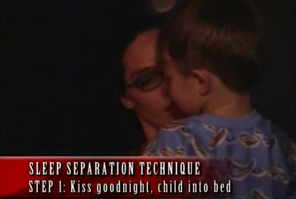 Steps
Encourage a calm time before bedtime, like reading or quiet play before bedtime rather than leap around or competitive games.
Remind your child that, "In five minutes, it's bedtime."
Once you've put the little one in bed, don't sit or lie down beside them. Instead sit on the floor, keeping your head down so that they can see your profile but not your eyes, turn off the light and say, "now it's time to be quiet and go to sleep."
Wait for the child to go to sleep.
If the child gets out of bed, put them back in, no talking and no shhhhh.
No conversation
When the child is asleep you may leave the room.
Episodes