Episode summary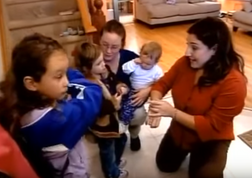 Jo visits the Schwartz family in Bellmore, New York where Cathy (33) & Steve (35) have four daughters, 6-year-old Samantha, 4-year-old Amanda, 3-year-old Katelyn, and 1 year old Emily.
With Steve and Cathy both working full time jobs, Cathy's sister Donna (48) is the main caregiver for the children which makes Cathy think that her daughters consider Donna more their mom than she is.
The three oldest children are acting out. Samantha and Katelyn both run in the house, screaming & shouting. Samantha is just wild and could annoy her aunt Donna and her mom. Katelyn is a little diva and can be bossy and demanding. Amanda is very stubborn and sometimes can be aggressive. All three of the oldest girls fight by rough housing and can be defiant.
The discipline in the house is non-existent and any attempts to discipline the girls are halted by Donna. Mornings are chaotic as Cathy rushes to make breakfast, get the two oldest girls on the school bus and get herself to work. Potty training Katelyn has been confusing between the Parents and Donna. Although Katelyn is 3 and 1/2 years old she isn't potty trained and still wears diapers
Donna doesn't see a reason to change things and makes it very clear that she doesn't want Supernanny in the house. Both Donna and Cathy argue over raising the children especially discipline, leaving Steve, and Jo caught in the middle.
Can Jo help Cathy and Steve handle their rowdy daughters? Can she help Donna to learn how to adjust to change?
Recap
Schwartz Family Recap on Blisstree
Trivia
During the Family Test Run, Aunt Donna used the Naughty Step technique.
Amanda was the only one who went to timeout although Katelyn and Samantha misbehaved.
In the credits, Steve was seen having fun with the girls.
This video was filmed in November 2005.
Family members
Cathy Schwartz, 33
Steve Schwartz, 35
Samantha, 6
Amanda, 4
Katelyn, 3
Emily, 1
Donna Dolengewicz, 48
Gallery