Summary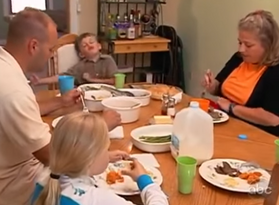 Jo visits Hamlin, New York to help the McGrath Family. Bill (39) and Tammy (40) have 3 children: 9-year-old Paige, 5-year-old Aiden and 4-year-old Liam.
Aiden was diagnosed with Type 1 Diabetes eight months ago which causes anxiety and fear in Tammy since her father passed away of diabetes at the age of 46. Aiden refuses to eat which not only scares his parents, but threatens his own health. Meanwhile, Paige and Liam feel their parents' distraction and are frustrated by it. Liam & Aiden always go toe-to-toe as well.
While Paige hides out in her room, Liam starts acting out aggressively. The parents are having trouble communicating with each other & their versions of time-outs are useless.
Can Jo help Bill and Tammy communicate effectively, get Aiden to eat and enforce discipline?
Transcript
Also see transcript on Ark TV
Family members
Bill McGrath, 39
Tammy McGrath, 40
Paige, 9
Aiden, 5
Liam, 4
Gallery
External Links