The Howat Family is the second episode of series 3 of the British Supernanny show. It was remade and re-released as the eighth episode of season 5 of the American Supernanny show.
Sypnopsis
"Single mum Tara is being victimised by her four year old son, Rhys, and stroppy daughter, Shannon (aged 7). Eight year old Casey also suffers due to her siblings' bad behaviour. She gets overlooked while mum struggles with the constant abuse and tantrums from the two younger kids. Inevitably, Tara loses her temper and voices are raised. Can Supernanny transform this bedlam into a happy family?" - Supernanny Website
Family
| Person | Age | Relation to Family |
| --- | --- | --- |
| Tara Howat | N/A | Mother |
| Casey | 8 | Daughter |
| Shannon | 7 | Daughter |
| Rhys | 4 | Son |
Full Sypnopsis
Observation
Jo visits the Howat family and Tara does breakfast. She asks ham on Rhys sandwich in breakfast, But hot tempered Rhys isn't happy with ham on his sandwich so he yells and screams. His mum makes ham on his sandwich as Rhys hits and bites Tara. On the school run, Rhys runs all around and his mum has to try to catch him. After school they go food shopping, Rhys uses the food and packed cheese and plays with it. Outside of the food market, Rhys runs off in the street and his older sisters have to catch him. Back at home Tara started crying that Rhys misbehaved and she lost control, She had bought bread and cheese from the food shops.
Episode Transcript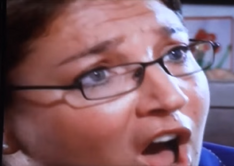 Version Differences
When Jo and Tara have their Parent Meeting, the close-ups are more up-close in the US version.
Gallery
External Links