Episode summary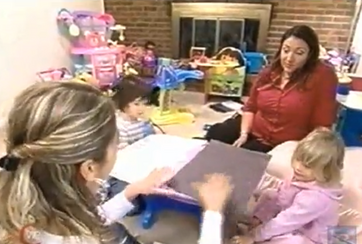 Jo visits the Doyle family in Beaumont, Texas where a young couple from Ohio Brandy (24) and Doug (25) are struggling with their three small children: 5-year-old Sara, 3-year-old Lizzy and 20-month-old Andrew.
Brandy and Doug are the parents and all 3 of the children terrorize them.
Lizzy is the biggest problem of all and the ringleader. She's very aggressive, throws tantrums and can cause mischief. Because her behaviour was so aggressive, she's on the verge of getting expelled from daycare, and her two other siblings are starting to pick up some of her behaviour.
Sara is stubborn and one time she gave herself a haircut with the scissors. She sometimes will fight until the end where she wins.
Andrew whines, screams, and cries all day long. He also can do dangerous things.
Brandy spends the majority of her time cleaning the house, leaving her children with nothing to do all day.
When Doug comes home from work, he just sits on the couch, leaving Brandy to discipline the kids by herself. At the parents' meeting, Jo makes it clear to the parents that they're both lazy. Jo gets embarrassed by having to witness Brandy and Doug bicker with each other about who is more to blame for the kids' misbehaviour and which of them does more or less around the house.
Can Jo help the Doyles control their children and get the parents to start being more lively?
Behind the scenes
This episode was filmed in February 2006.
Gallery