Episode summary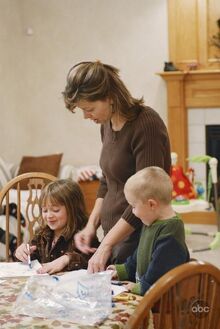 Jo meets parents Amy (42) and Dale Costello (50) of Medina, Ohio, the largest family she's ever encountered with 10 kids: Logan (15), Carley (14), Chaslyn (12), Joelle (11), Corban (9), Addison (7), Nolan (5), Bryson (3), Cameron (2), and Keaton (8 months). Amy is set on her dream of having 12 children, but her husband doesn't agree.
As the parents had 10 kids, these parents force 15 year old Logan to act like a dad. He is stressed out and has had a panic attack once. He just feels that raising his 9 siblings is a hard job to do. Carley and Chaslyn also have to watch their younger siblings as well. They are also fed up and so stressed. The parents are blaming the three older kids for not doing a good job taking care of them.
Meanwhile the 6 middle kids are acting out (ages 2-11). While Bryson and Cameron occasionally throw tantrums at times, the 4 older middle children tend to rough house. All 6 of the middle kids are very rowdy and they talk back. They also run around the house. Corban and Nolan are the main offenders and they aggravate and lead the mischief.
Can Jo get the parents to understand it's their responsibility to take care of the kids?
Transcript
Transcript on ArkTV.com
Family members
| Person | Age | Relation to Family |
| --- | --- | --- |
| Dale Costello | 50 | Father |
| Amy Costello | 42 | Mother |
| Logan | 15 | Son |
| Carley | 14 | Daughter |
| Chaslyn | 12 | Daughter |
| Joelle | 11 | Daughter |
| Corban | 9 | Son |
| Addison | 7 | Daughter |
| Nolan | 5 | Son |
| Bryson | 3 | Son |
| Cameron | 2 | Son |
| Keaton | 0.8 (8mo) | Son |
Gallery
External Links